Eat & Dance
Most sailors and visitors staying on Union island will tell you that despite everything they thought, there is actually a pretty big choice of Restaurants and Bar to spice up your Holiday in the Grenadines.
Union Island is definitely not a world renowned party place but it has its' charms and is one of the most lively islands of the Grenadines.
The recently introduced Full Moon Party, happening at every Full Moon from December to May have placed Union Island on the map as an Island that knows how to entertain it's visitors.
The Restaurants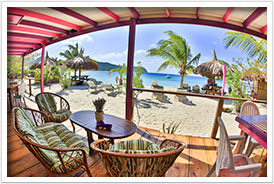 T his past year has seen a lot of new restaurants being opened on Union. We have listed all of the options that we believe will appeal to all budgets. Romantic or cheap there is a place to eat for everyone.
The Full Moon Party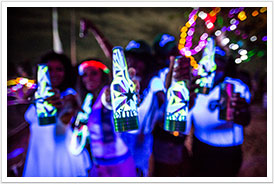 T he Union Island Full Moon Party is a Beach party, Light and Fire show with a Night Kitesurfing demonstration and is not to be missed if you are around the Island during a Full Moon from December to May. Food and Drinks are available all night. All ages are welcome, and the party starts early, 6.30pm.
Bars and Night Clubs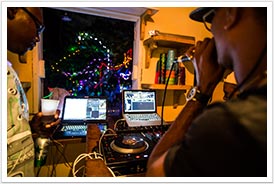 I t is a known fact that the people of the Caribbean like to party and celebrate, Union Island is no exception with several nice bars, night clubs and the great Full Moon Parties organized by the JT Pro Center Kitesurfing School during the season.
The Restaurants
Union Island is starting to have a very wide choice of very nice restaurants each offering their particularity. We have listed some of the main restaurants of the island, but feel free to walk around town and pick any other place that sounds interesting and make sure to negotiate the prices prior to any commitment so noone has any bad surprises.
This month featured Snack bar: "The Snack Shack"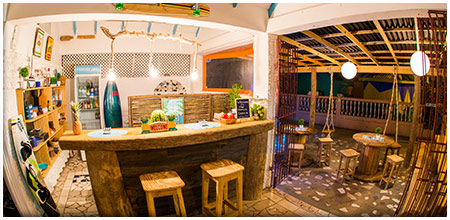 The Snack Shack is the newly open snack bar on Union island.
Built with the use of recycled material found on Union Island, it is a little treasure of inspiration for diy projects.
It is the perfect hangout place from early morning to late night to enjoy one of the best Panini sandwiches you will ever have, excellent breakfast, the best Ice cream in town or some of the local freshly cut fruit juices.
It is also a convenient place to check your emails with the free WIFI internet connection.
The Snack Shack street parties are not to be missed every Saturday night with live music entertainment.
Sparrows Beach Club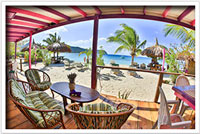 Newly Opened, The Sparrow's Beach Club is one of Union Island top restaurants. Located on the white Big Sand beach it is the perfect environment to have a great lunch on the Beach or a lovely dinner at night. They have a free shuttle service from the center of Clifton.
Prices from 50 to 120 EC$ per Meal Incl. Drinks
Ciao Pizza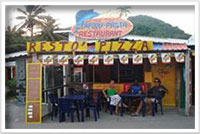 After a long sunny day Kitesurfing or Sailing around the islands nothing is better than a great plate of Pasta or a nice Pizza by Marie's Restaurant, Ciao Pizza located right next to the Bank in Clifton. She also serves nice Salads and very tasty smoked Marlin.
Prices from 35 to 70 EC Per Meal Incl. Drinks
Anchorage Yacht Club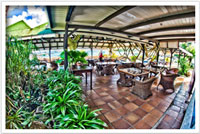 The Anchorage Yacht Club is one of Union Island first Restaurants and is world renown for it's Shark Pool right next to the Dining Area. You can have your Yacht at the Dock of the Marina and use the Wifi at the Bar of the Hotel.
Prices from 50 to 120 EC$ per Meal Incl. Drinks
Big Citi Grill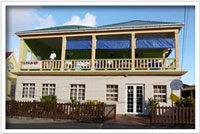 Big Citi Grill will cover all budgets and tastes. You can choose to eat the food offered at the delicious buffet for very cheap or choose from its menu or Special of the Day cooked by the excellent local chef Teroy. Big Citi Grill is located in Clifton in front of the Fruit Market.
Prices vary from 10 EC$ to 60 EC$ Per Meal Incl Drinks.
Barracuda Restaurant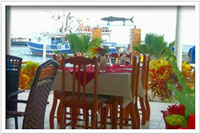 Newly opened on Union Island Barracuda Restaurant has a big variety in the food they serve from Fish to Pizzas and Pasta. Italian cuisine are the main dishes as the owners are both Italian. They are located next to the Bougainvilla Hotel.
Prices vary from 50 EC$ to 100EC$ Per meal Incl. Drinks.
L'Aquarium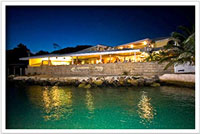 L'Aquarium restaurant is located in the Bougainvilla Hotel and Marina. Facing the local Harbor, L'Aquarium Restaurant recently changed management and is now run by a young half Brazilian half Martinican. They have a very beautiful Aquarium in the dining room featuring beautiful Caribbean fish.
Prices vary from 50EC$ to 120 EC$ Per Meal Incl. Drinks.
Joy's BBQ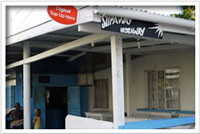 Joy's BBQ is the place to be on Friday and Saturday evenings. Joy cooks one of the best BBQ Chicken, Pig Tails and Pork on the island. You also cannot beat the prices and it is perfect food to get ready for a nice Friday Night roaming the streets of Union Island.
Prices: 15 – 20 EC$ Per Meal
Oher affordable local restaurants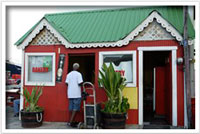 Right in the center of Clifton you will find several local restaurants offering great meals between 10 to 20 EC$. Most of them can be ordered to go or eaten on site. Fair Deal is open every day and is located in front of the Lambi restaurant in the center of Clifton. BBQ is sold every Thursday in front of the Internet Cafe building in Clifton. Lambi snack has a buffet available every day and is located in the center of town.
The Bars and Night Club
Most of the Restaurants listed above offer a great area to have a drink and use free wifi. Sparrows, the Anchorage Yacht Club and Bougainvilla are all some of the great ocean front bars you can hang out during the evening or during the day.
We will be listing here all the main Bars you can find in Clifton on Union Island.
There are dozens of other little nice local bars that you can discover by simply walking along Clifton street and you will find several very nice bars where you can just sit down and have a local Rum drink and share the stories of your journey with the local fishermen or speed boat guys.
The Snack Shack Bar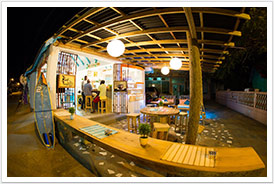 The place to be every evening for a relaxing drink or Union Island's best ice cream in a beautiful environement.
Come join the Snack Shack Live music street party every Saturday evening from 7pm to midnight.
Cruiser's Bar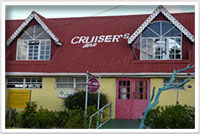 Located on the first floor in front of the Mulzac square in CLifton the cruiser's bar has a more loungy atmosphere and nice cocktails.
Twilight Eclipse Bar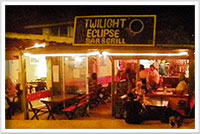 Twilight is a nice little place to be in the evening on Union Island. They have very nice cocktails and there is always someone there to socialize with. They also have very tasty samosas and very good Fish and Meat Burgers. Twilight is located next to the bank.
Big Ship Night Club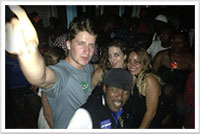 Open almost every night, the Big Ship Night Club is the place to be from 11pm until sunrise. The Night Club is located in front of the Bank aon the first floor. Do not feel intimidated by Union Island's nightlife, every one on the dance floor is very respectful and friendly, Tourists and locals are all sharing a great Night out, especially on Friday nights.